About Us
 
 
When you think Winnipeg, one of the first things that comes to mind is Junior's! Junior's Restaurant has been a staple of Winnipeg for over 60 years, and since then we have been serving fresh, crispy fries at a great family fare, and juicy gourmet burgers, including our signature Fatboy! Each one of these monstrous burgers comes with a juicy Angus Beef patty, and is topped with chili, onions, mustard, pickles, lettuce, tomato, mayo, and processed cheddar cheese. All of this is sandwiched between a sesame seed bun. Junior's also prides ourselves in our selection of other foods, including Hot Dogs, Specialty Burgers, Gyros, and Chicken dishes! With such a wide selection of meals for you to try, you won't have any trouble deciding where to eat! If you're a fan of chicken fingers, then you have to try Junior's signature Chicken Fingers, fried to a perfect golden-brown and served with two dipping sauces. Try getting an order of them with honey dill sauce, a Manitoba staple! If fast food isn't your style, Junior's also offers a selection of healthy salads including the Tossed Salad or the Greek Salad, which comes with romaine lettuce, cucumbers, Kalamata olives, cherry tomatoes, sprinkled with feta cheese, red peppers, red onions, and purple cabbage. All of this is topped with a tasty Greek dressing that makes your taste buds pop! No matter the occasion, Junior's is sure to be your top fast food joint stop in Winnipeg! Not wanting to leave the house to grab food? Order Junior's for delivery through SkipTheDishes from one of our three locations scattered across the city!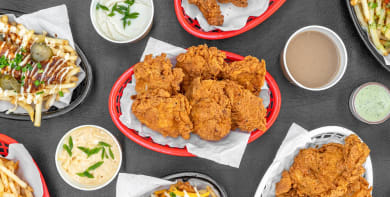 Reviews
Maggie
"amazing food!!!"
2022-01-06
Daysin
"Everything all good but the ice"
2022-01-04
Jarett
"Thank you for great service and food. Have a beautiful night. ?"
2021-12-31
Jade
"Didn't give tzatziki but have mayo wish there was a options for tzatziki sauce."
2021-12-20
Contact Us
Find Us
785 St Mary's Rd, Winnipeg, MB R2M, Canada, Winnipeg, R2M 3N9
Opening Hours
Monday
10:00 AM - 11:59 PM
Tuesday
12:00 AM - 12:30 AM
Wednesday
10:15 AM - 11:59 PM
Thursday
10:15 AM - 11:59 PM
Friday
10:30 AM - 11:59 PM
Saturday
10:00 AM - 11:59 PM
Sunday
10:45 AM - 11:59 PM
Please note, delivery times may vary.
We deliver to
R2C, R2H, R2J, R2K, R2L, R2M, R2N, R2W, R3A, R3B, R3C, R3E, R3G, R3L, R3M, R3N, R3P, R3T, R3V, R3W, R3X, R3Y, R5A