About Us
 When you think Winnipeg, one of the first things that comes to mind is Junior's! Junior's Restaurant has been a staple of Winnipeg for over 60 years, and since then we have been serving fresh, crispy fries at a great family fare, and juicy gourmet burgers, including our signature Fatboy! Each on...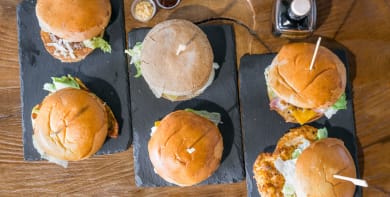 Reviews
""SPICY NIHILISM" written on the bag, really silly goobers with good food there"
"however, the last two times I've ordered they forgot to pack the honey dill sauce with the chicken fingers despite ordering them."
"No napkins or fork or condomints! But always good! Thank u!"
"everything was awesome tonight"
"they forgot to put a straw in the bag for my drink and didn't get much sweet potatoe fries whete they were not crispy like they normally r"
"Too much gravy, comparable to soup"
"Chilli cheese fries were VERY dry"
"The fries could have used more gravy and not as fried. As well the chilli is cold on the onion rings. Other then that great taste!"
"Poutine was cold, cheese not melted!"
"After a week of being Cookt and hungover very nice food"
"Best deep fried pickles in town. Love their taziki sauce."
"the food was fantastic. one drawback to tonight's order: Driver should have knocked on the door to announce delivery."
"Forgot to give Skip driver my drinks"
"A staple in my family for decades now and a Winnipeg institution. Junior's on Portage. Thank you."
Our Locations
Winnipeg
558 Portage Ave, Winnipeg, MB R3C, Canada, Winnipeg, R3C 0G3
Opening Hours
| | |
| --- | --- |
| Monday | 10:30 AM - 10:30 PM |
| Tuesday | 10:30 AM - 10:30 PM |
| Wednesday | 10:30 AM - 10:30 PM |
| Thursday | 10:30 AM - 10:30 PM |
| Friday | 10:30 AM - 11:15 PM |
| Saturday | 11:00 AM - 11:15 PM |
| Sunday | 11:00 AM - 10:30 PM |
Delivery times may vary
We deliver to:
R2C, R2G, R2H, R2J, R2K, R2L, R2M, R2N, R2P, R2R, R2V, R2W, R2X, R2Y, R3A, R3B, R3C, R3E, R3G, R3H, R3J, R3K, R3L, R3M, R3N, R3P, R3R, R3S, R3T, R3W, R3X, R3Y
Winnipeg
785 St Mary's Rd, Winnipeg, MB R2M, Canada, Winnipeg, R2M 3N9
Opening Hours
| | |
| --- | --- |
| Monday | 10:00 AM - 12:30 AM |
| Tuesday | 10:15 AM - 12:30 AM |
| Wednesday | 10:15 AM - 12:30 AM |
| Thursday | 10:15 AM - 12:45 AM |
| Friday | 10:30 AM - 12:45 AM |
| Saturday | 10:00 AM - 12:45 AM |
| Sunday | 10:45 AM - 11:45 PM |
Delivery times may vary
We deliver to:
R0E, R0G, R2C, R2G, R2H, R2J, R2K, R2L, R2M, R2N, R2W, R3A, R3B, R3C, R3E, R3G, R3L, R3M, R3N, R3P, R3S, R3T, R3V, R3W, R3X, R3Y, R5A
Winnipeg
1019 McPhillips Street, Winnipeg, MB R2X 2K6, Canada, Winnipeg, R2X 2K6
Opening Hours
| | |
| --- | --- |
| Monday | 10:30 AM - 11:00 PM |
| Tuesday | 10:30 AM - 11:00 PM |
| Wednesday | 10:30 AM - 11:00 PM |
| Thursday | 10:30 AM - 12:00 AM |
| Friday | 10:30 AM - 12:00 AM |
| Saturday | 10:30 AM - 12:00 AM |
| Sunday | 10:30 AM - 11:00 PM |
Delivery times may vary
We deliver to:
R0H, R1A, R2C, R2E, R2G, R2H, R2J, R2K, R2L, R2P, R2R, R2V, R2W, R2X, R2Y, R3A, R3B, R3C, R3E, R3G, R3H, R3J, R3L, R3M, R3N, R3W, R4A, R4H