About Us
 When you think Winnipeg, one of the first things that comes to mind is Junior's! Junior's Restaurant has been a staple of Winnipeg for over 60 years, and since then we have been serving fresh, crispy fries at a great family fare, and juicy gourmet burgers, including our signature Fatboy! Each on...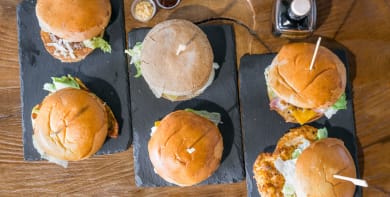 Reviews
"Thank you was great thx u"
"Was disappointed that the fries were a bit undercooked and with very little gravy"
"F**kennnn perfect!!!!!!<3"
"You forgot to add the sourcream for the pierogies"
"They ALWAYS cook my food to perfection and exactly how I have requested! Amazing food"
"they forgot the dips for the chicken fingers but they were still good nonetheless."
"Don't love the poutine. Needs mozza & not marble"
"The best yet. Dinner was delicious"
"Always got the best gravy around winnipeg and fresh food"
"forgot a pickle spear and the ranch dip but everything else was good"
Our Locations
Winnipeg
558 Portage Ave, Winnipeg, MB R3C, Canada, Winnipeg, R3C 0G3
Opening Hours
| | |
| --- | --- |
| Monday | 10:30 AM - 10:30 PM |
| Tuesday | 10:30 AM - 10:30 PM |
| Wednesday | 10:30 AM - 10:30 PM |
| Thursday | 10:30 AM - 10:30 PM |
| Friday | 10:30 AM - 11:15 PM |
| Saturday | 11:00 AM - 11:15 PM |
| Sunday | 11:00 AM - 10:30 PM |
Delivery times may vary
We deliver to:
R2C, R2G, R2H, R2J, R2K, R2L, R2M, R2N, R2P, R2R, R2V, R2W, R2X, R2Y, R3A, R3B, R3C, R3E, R3G, R3H, R3J, R3K, R3L, R3M, R3N, R3P, R3R, R3S, R3T, R3W, R3X, R3Y
Winnipeg
785 St Mary's Rd, Winnipeg, MB R2M, Canada, Winnipeg, R2M 3N9
Opening Hours
| | |
| --- | --- |
| Monday | 10:00 AM - 12:30 AM |
| Tuesday | 10:15 AM - 12:30 AM |
| Wednesday | 10:15 AM - 12:30 AM |
| Thursday | 10:15 AM - 12:45 AM |
| Friday | 10:30 AM - 12:45 AM |
| Saturday | 10:00 AM - 12:45 AM |
| Sunday | 10:45 AM - 11:45 PM |
Delivery times may vary
We deliver to:
R0E, R0G, R2C, R2G, R2H, R2J, R2K, R2L, R2M, R2N, R2W, R3A, R3B, R3C, R3E, R3G, R3L, R3M, R3N, R3P, R3S, R3T, R3V, R3W, R3X, R3Y, R5A
Winnipeg
1019 McPhillips Street, Winnipeg, MB R2X 2K6, Canada, Winnipeg, R2X 2K6
Opening Hours
| | |
| --- | --- |
| Monday | 10:30 AM - 11:00 PM |
| Tuesday | 10:30 AM - 11:00 PM |
| Wednesday | 10:30 AM - 11:00 PM |
| Thursday | 10:30 AM - 12:00 AM |
| Friday | 10:30 AM - 12:00 AM |
| Saturday | 10:30 AM - 12:00 AM |
| Sunday | 10:30 AM - 11:00 PM |
Delivery times may vary
We deliver to:
R0H, R1A, R2C, R2E, R2G, R2H, R2J, R2K, R2L, R2P, R2R, R2V, R2W, R2X, R2Y, R3A, R3B, R3C, R3E, R3G, R3H, R3J, R3L, R3M, R3N, R3W, R4A, R4H